Sprockets and Segments
Used as Crawler Excavator Sprockets, Dozer Sprockets, Crawler Crane Sprockets, Crawler Drill Rig Sprockets
Description
The sprocket, or segment, is also another component to undercarriages of crawler heavy equipment including excavators, bulldozers, cranes, and drilling machines.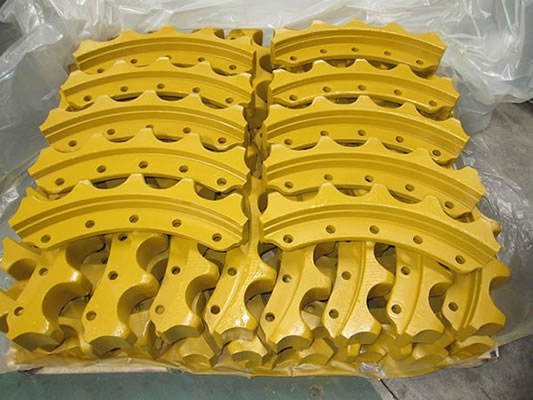 Brech sprockets are cast using a specific steel material blend for abrasion resistance and strength, machined for a proper fit and finally, heat treated to provide long term durability. The sprockets undergo deep induction hardening to provide an excellent depth pattern on the entire tooth profile, giving it a longer service life. Berch segments ensure maximum resistance and durability, even under severe conditions.
Our sprockets and segments are forged using the finest alloy forging steels that are machined to exact tolerances, and heat treated to provide excellent wear and strength characteristics. Berch's segments are also hardened for an improved wear resistance. A high surface, depth, and core hardness means Berch segments provide a long wear life, are resistant to bending, breaking and feature maximum hardware retention.
Berch guarantees a one year warranty on all sprockets and segments.
Model Selection according to customer need numbers
Our sprockets and segments are applicable to Komatsu, Hitachi, Daewoo, Volvo, Hyundai, Jcb and other construction vehicle companies. We also provide OEM services according to customer drawings and samples.
Our company can provide Sprockets and Segments according to the OEM numbers as follows.
E120B~E330
| | |
| --- | --- |
| Model | OEM Part No. |
| E120B | 990219 Sprocket |
| E200B | 964327 Sprocket |
| E311/312 | 4I7472 Sprocket |
| E320/322 | 8E9805 Sprocket |
| E325 | 6Y4898 Sprocket |
| E330 | 6Y5685 Sprocket |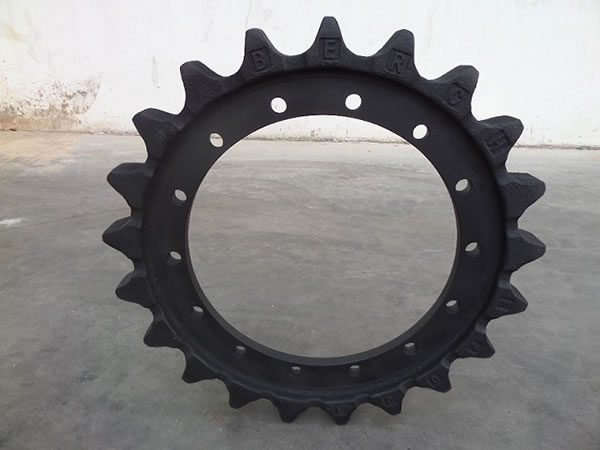 E200B
PC60-1~PC400-3/5
| | |
| --- | --- |
| Model | OEM Part No. |
| PC60-1 | 201-27-11530 Sprocket |
| PC60-3/5 | 201-27-41110 Sprocket |
| PC60-6/7 | 21W-27-11110 Sprocket |
| PC100-1 | 113-27-21410 Sprocket |
| PC100-2 | 20X-27-21110 Sprocket |
| PC100-3 | 203-27-41111 Sprocket |
| PC100-5 | 203-27-51310 Sprocket |
| PC100-6 | 203-27-61310 Sprocket |
| PC120-1 | 113-27-21410 Sprocket |
| PC120-2 | 113-98-22210 Sprocket |
| PC120-3 | 203-27-41111 Sprocket |
| PC120-5 | 203-27-51310 Sprocket |
| PC120-6 | 203-27-61310 Sprocket |
| PC200-1/2/3 | 205-27-71281 Sprocket |
| PC200-5/6 | 20Y-27-11581 Sprocket |
| PC200-7 | 20Y-27-11582 Sprocket |
| PC220-1/2 | 206-27-21111 Sprocket |
| PC220-3 | 205-27-71281 Sprocket |
| PC220-5/6 | 20Y-27-11581 Sprocket |
| PC300-1 | 207-27-21310 Sprocket |
| PC300-2 | 207-27-21311 Sprocket |
| PC300-3/5 | 207-27-33222 Sprocket |
| PC300-6/7 | 207-27-61210 Sprocket |
| PC400-3/5 | 208-27-31221 Sprocket |
D3C~D8K/D8H
| | |
| --- | --- |
| Model | OEM Part No. |
| D3C | 9W9266 Sprocket |
| D4D | 4V4107 Sprocket |
| D4H | 6Y5245 Sprocket |
| D5 | 6Y5244 Sprocket |
| D5H | CR5513 Sprocket |
| D6C/D6D | 8P5837 Sprocket |
| D6H | 6Y2931 Sprocket |
| D7G | 6T4178 Sprocket |
| D8K/D8H | 6T6782 Sprocket |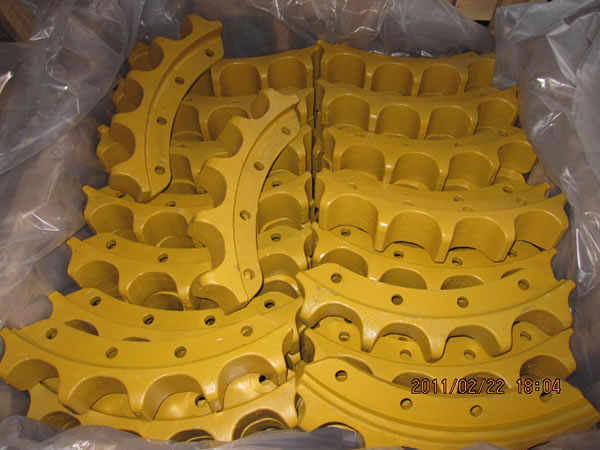 D6D
EX60~EX400-1/2/3/5
| | |
| --- | --- |
| Model | OEM Part No. |
| EX60 | 1010447 Sprocket |
| EX60-2/3 | 1012495 Sprocket |
| EX60-5 | 1024217 Sprocket |
| EX100-1/2/3/5 | 1010325 Sprocket |
| EX120-1/2/3/5 | 1010325 Sprocket |
| EX200-1 | 1010204 Sprocket |
| EX200-2/3 | 1018740 Sprocket |
| EX200-5 | 1020990 Sprocket |
| EX220-1/2/3/5 | 1010203 Sprocket |
| EX270-1/2 | 1010467 Sprocket |
| EX270-5 | 1017928 Sprocket |
| EX300-1/2/3 | 1010467 Sprocket |
| EX300-5/EX330-5 | 1022168 Sprocket |
| EX400-1/2/3/5 | 1010956 Sprocket |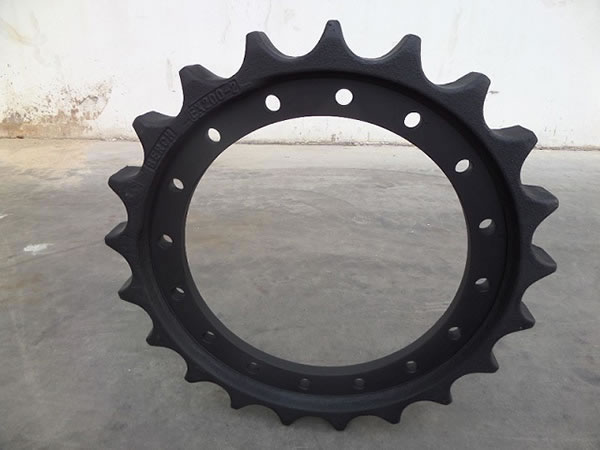 EX200-2
SK100/SK120~SK300
| | |
| --- | --- |
| Model | OEM Part No. |
| SK100/SK120 | 2404N271 Sprocket |
| SK200-3 | 2404N262 Sprocket |
| SK220-3/5 | 2404N264 Sprocket |
| SK300 | 2404N256 Sprocket |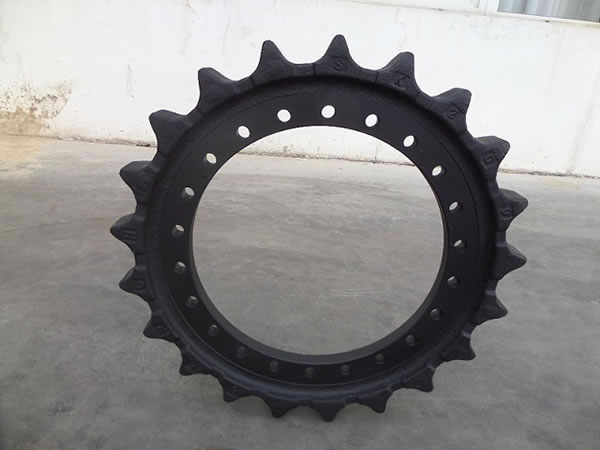 SK200-3
DH200LC~DH280-3
| | |
| --- | --- |
| Model | OEM Part No. |
| DH200LC | 2108-1014 Sprocket |
| DH220-3/5 | 2108-1028 Sprocket |
| DH280-3 | 2108-1015 Sprocket |
R200~R290
| | |
| --- | --- |
| Model | OEM Part No. |
| R200 | 82E1-2001 Sprocket |
| R210LC-3 | 81EM-10010 Sprocket |
| R210LC-7 | 81EM-10013 Sprocket |
| R290 | 81E5-2001 Sprocket |
EC210~EC460
| | |
| --- | --- |
| Model | OEM Part No. |
| EC210 | 1181-00050 Sprocket |
| EC240 | 1181-00380 Sprocket |
| EC290 | 1181-00680 Sprocket |
| EC360 | 1081-01850 Sprocket |
| EC460 | 1081-02210 Sprocket |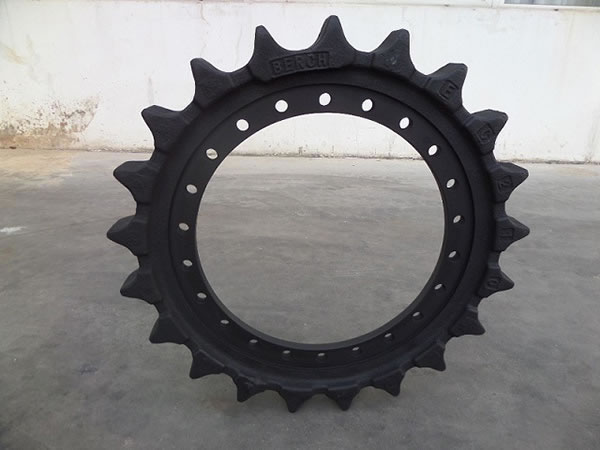 EC210B
D8N/D8R~D355
| | |
| --- | --- |
| Model | OEM Part No. |
| D8N/D8R | 6Y2354 Sprocket |
| D20/D21 | 101-98-00050 Sprocket |
| D30/D31 | 113-27-31320 Sprocket |
| D50 | 131-27-61710 Sprocket |
| D60/D65-8 | 141-27-32410 Sprocket |
| D65EX-12 | 14X-27-15111 Sprocket |
| D80/D85 | 155-27-00151 Sprocket |
| D155 | 175-27-22324 Sprocket |
| D355 | 195-27-12466 Sprocket |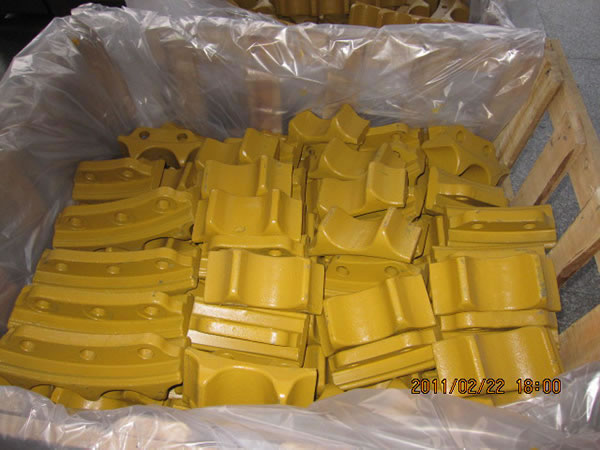 D85
Examples we have made