Carrier Roller
Used as Crawler Excavator Carrier Roller, Dozer Carrier Roller, Crawler Crane Carrier Roller, Crawler Drill Rig Carrier Roller
Description
Carrier rollers (also called top rollers or upper rollers), are part of undercarriage parts for crawler excavators, bulldozers, cranes, and drilling machines. Berch carrier rollers are engineered out of forged alloy steel that undergoes a heat treatment to allow for durability in terms of wear and impact. These rollers are manufactured using cutting edge technology and induction heat treatment to ensure the proper hardness levels. The top rollers cover a range of the most popular models with the expertise of OEM knowledge, and are engineered to enable a direct interchange for original equipment.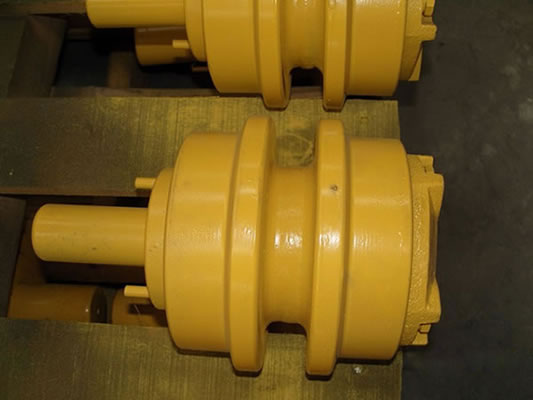 Excavator carrier rollers are made of the roller body, shaft, collar, bi-metallic bearings and the seal group. It is made through forging, machining, heat treatment, assembly, and painting.
The quality and working life depend on the quality of the raw steel, the hardness of the rail surface, the depth of the hardness layer, and the quality of the seal group.
Model Selection according to customer need numbers
All Berch rollers are covered under a one year warranty, and are applicable for use in Komatsu, Hitachi, Kobelco, Daewoo, Hyundai, Volo, and Jcb vehicles. We also offer OEM services according to customer drawings and services.
Our company can provide Carrier Roller according to the OEM numbers as follows.
E311/E312~E450
| | |
| --- | --- |
| Model | OEM Part No. |
| E311/E312 | 4I7345 Carrier Roller |
| E315/E320/E200B | 8E5600 Carrier Roller |
| E325/E330 | 102-8152/6Y5323 Carrier Roller |
| E450 | 946114 Carrier Roller |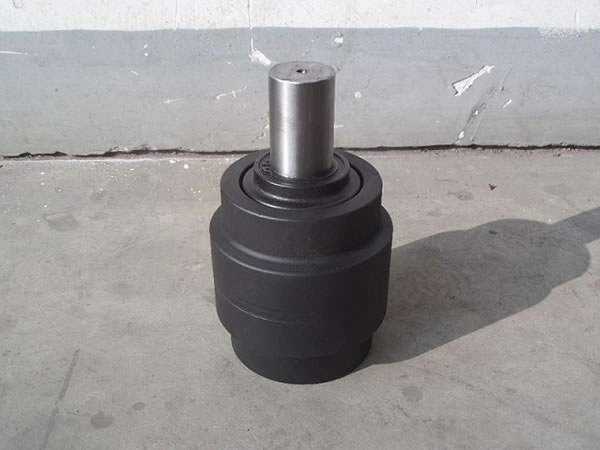 E320
PC60-1~PC400-1/2/3/5/6
| | |
| --- | --- |
| Model | OEM Part No. |
| PC60-1 | 103-30-00011 Carrier Roller |
| PC60-3/5/6 | 203-30-53001 Carrier Roller |
| PC60-7 | 20T-30-00050 Carrier Roller |
| PC100-1 | 203-30-00012 Carrier Roller |
| PC100-2/3/5 | 203-30-53001 Carrier Roller |
| PC100-6 | 203-30-00231 Carrier Roller |
| PC120-1/2 | 203-30-00012 Carrier Roller |
| PC120-3/5/6 | 203-30-53001 Carrier Roller |
| PC200-1/2/3/5/6 | 20Y-30-00022 Carrier Roller |
| PC200-7 | 22U-30-00021 Carrier Roller |
| PC220-1/2/3/5/6 | 20Y-30-00022 Carrier Roller |
| PC300-1/2/3/5/6 | 208-30-00320 Carrier Roller |
| PC300-7 | 207-30-00430 Carrier Roller |
| PC400-1/2/3/5/6 | 208-30-00320 Carrier Roller |
EX60~EX220-2/3
| | |
| --- | --- |
| Model | OEM Part No. |
| EX60 | 9062403 Carrier Roller |
| EX60-2/3 | 9108841 Carrier Roller |
| EX60-5 | 9153288 Carrier Roller |
| EX100-1 | 9105752/9061288 Carrier Roller |
| EX100-2/3/5 | 9092400 Carrier Roller |
| EX120-2/3/5 | 9092400 Carrier Roller |
| EX200-1 | 9105751/9062406 Carrier Roller |
| EX200-2/3 | 9089636 Carrier Roller |
| EX200-5 | 9134245 Carrier Roller |
| EX220-1 | 9062406 Carrier Roller |
| EX220-2/3 | 9089636 Carrier Roller |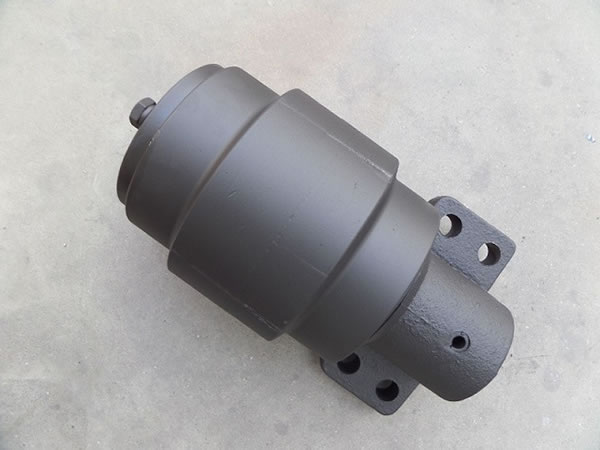 EX200-5
D3B/D3C~D7F/D7G
| | |
| --- | --- |
| Model | OEM Part No. |
| D3B/D3C | 6S3609 Carrier Roller |
| D4 | 6K9880/3K7962 Carrier Roller |
| D5H | 6Y3908 Carrier Roller |
| D6H/D6R | 6Y1781 Carrier Roller |
| D5B/D6B | 9S3570/5A8374 Carrier Roller |
| D6C/D6D | 3T3206/9S2730 Carrier Roller |
| D7F/D7G | 1P8717/2P3514 Carrier Roller |
EX220-5~EX400-5
| | |
| --- | --- |
| Model | OEM Part No. |
| EX220-5 | 9178333 Carrier Roller |
| EX270-1/2 | 9062405 Carrier Roller |
| EX270-5 | 9149839 Carrier Roller |
| EX300-1/2/3 | 9062405 Carrier Roller |
| EX300-5/EX330-5 | 9149839 Carrier Roller |
| EX400-1 | 9072634 Carrier Roller |
| EX400-2/3 | 9099140 Carrier Roller |
| EX400-5 | 4349516 Carrier Roller |
SK100-1~ 3~SK300-2/3
| | |
| --- | --- |
| Model | OEM Part No. |
| SK100-1~ 3 | 24100N4038F2 Carrier Roller |
| SK120-1~ 3 | 24100N4038F2 Carrier Roller |
| SK200-1~ 3 | 24100N5946F2 Carrier Roller |
| SK200-6 | YN64D01022F0 Carrier Roller |
| SK220-1/2 | 24100N6194F1 Carrier Roller |
| SK220-3 | 24100N5946F2 Carrier Roller |
| SK300-1 | 24100N3841F2 Carrier Roller |
| SK300-2/3 | 24100N7035F1 Carrier Roller |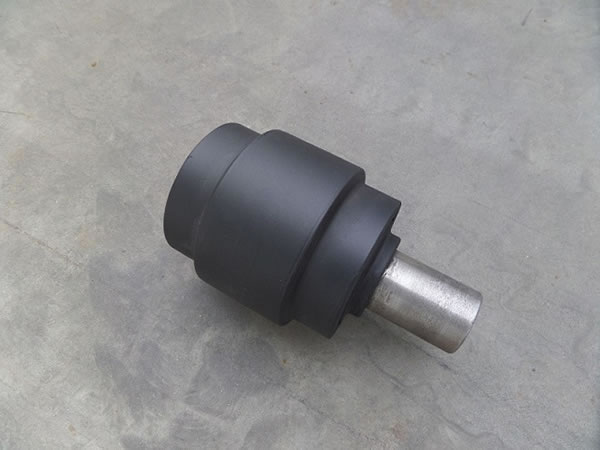 SK200
SH100/SH120~SH300
| | |
| --- | --- |
| Model | OEM Part No. |
| SH100/SH120 | KNA0592/KNA0625 Carrier Roller |
| SH200/SH220 | KRA1251/KRA1302 Carrier Roller |
| SH300 | KTA0958 Carrier Roller |
HD700~DH280
| | |
| --- | --- |
| Model | OEM Part No. |
| HD700 | 187-50600100 Carrier Roller |
| DH200/DH220LC | 2270-1005 Carrier Roller |
| DH280 | 2270-6126 Carrier Roller |
R210~R290
| | |
| --- | --- |
| Model | OEM Part No. |
| R210 | 81EM-10030-01 Carrier Roller |
| R290 | 81E5-2003 Carrier Roller |
EC210~EC460
| | |
| --- | --- |
| Model | OEM Part No. |
| EC210 | 1181-00010 Carrier Roller |
| EC240 | 1181-00010 Carrier Roller |
| EC290 | 1181-00781 Carrier Roller |
| EC360 | 1081-04411 Carrier Roller |
| EC460 | 1081-04411 Carrier Roller |
D8K~D150A-1/D155A-1
| | |
| --- | --- |
| Model | OEM Part No. |
| D8K | 8P6256/9P2663 Carrier Roller |
| D8N | 8E0400 Carrier Roller |
| D50-15~ 18 | 141-30-00110 Carrier Roller |
| D60-6 | 141-30-00568 Carrier Roller |
| D65EX-12 | 14X-30-00141 Carrier Roller |
| D80-18 | 155-30-00233 Carrier Roller |
| D150A-1/D155A-1 | 175-30-00515 Carrier Roller |
Examples we have made