Track Roller
Used as Excavator Track Roller, Dozer Track Roller, Crawler Crane Track Roller, Crawler Drill Rig Track Roller
Description
The track roller, (also called a bottom roller or lower roller) is an undercarriage part for crawler heavy equipment such as excavators, bulldozers, cranes and drilling machines.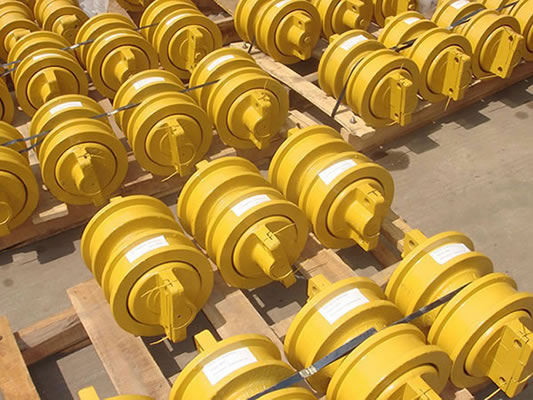 Berch offers a wide array of track rollers for most popular machine models on the market today. Each track roller is designed and manufactured for a longer service life. Berch's hardening or differential quenching processes increase the wear life, provide a better structural support and a resistance to deformation. Berch's seal groups have a large oil capacity and excellent sealing performances to provide a maintenance free, longer lasting roller to help reduce your costs. Each track roller is highly praised on the market today for the longer wear life and higher impact resistance.
We provide a one year warranty for all Berch brand track rollers.
Model Selection according to customer need numbers
Excavator track rollers are made of the roller body, shaft, collars, bi-metallic bearings and a seal group. They are made using several processes, including forging, machining, heat treatment, assembly, and painting.
The quality and working life depends on the quality of raw steel supplied, the hardness of the rail surface, the depth of the hardness layer, and the quality of the seal group.
Each process in the manufacturing is carried out under strict control.
Our track rollers are applicable in Komatsu, Kobelco, Daewoo, Hyundai, Volvo, Jcb and other company's construction machinery. We can also provide OEM services according to our client's drawings or samples.
Our company can provide Track Roller according to the OEM numbers as follows.
E311/312~E450
| | |
| --- | --- |
| Model | OEM Part No. |
| E311/312 | 151-9747/4I-7346 Track Roller |
| E320/E200B | 117-5045/8E-5034 Track Roller |
| E322 | 163-4145/6I-9396 Track Roller |
| E325 | 117-5046/6Y-1057 Track Roller |
| E330 | 117-5047/6Y-2795 Track Roller |
| E450 | 863096/G643-00200B Track Roller |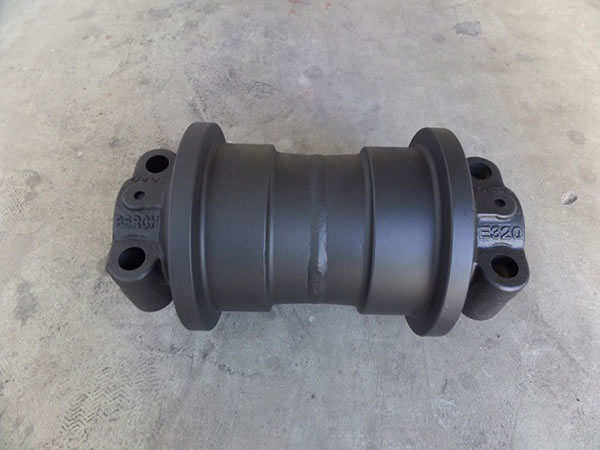 E320
PC60-1/3~PC400-3/5
| | |
| --- | --- |
| Model | OEM Part No. |
| PC60-1/3 | 201-30-00050 Track Roller |
| PC60-5/6 | 201-30-00062 Track Roller |
| PC60-6 | 21W-30-00021 Track Roller |
| PC60-7 | 201-30-00292 Track Roller |
| PC100-1/2/3/5 | 203-30-00140 Track Roller |
| PC100-6/PC120-6 | 203-30-00220 Track Roller |
| PC120-1/2/3/5 | 203-30-00140 Track Roller |
| PC200-1/2 | 205-30-00172 Track Roller |
| PC200-3 | 20Y-30-00130 Track Roller |
| PC200-5/6 | 20Y-30-00012 Track Roller |
| PC200-7 | 20Y-30-00015 Track Roller |
| PC220-1/2 | 205-30-00172 Track Roller |
| PC220-3 | 20Y-30-00130 Track Roller |
| PC220-5/6 | 20Y-30-00012 Track Roller |
| PC300-1/2 | 141-30-00578 Track Roller |
| PC300-3 | 207-30-00130 Track Roller |
| PC300-5/6 | 207-30-00150 Track Roller |
| PC400-3/5 | 208-30-00210 Track Roller |
EX60-1~EX200-5
| | |
| --- | --- |
| Model | OEM Part No. |
| EX60-1 | 9046234/9066207 Track Roller |
| EX60-2 | 9066970 Track Roller |
| EX60-3 | 9096970 Track Roller |
| EX60-5 | 9153152/9177016 Track Roller |
| EX100 | 9066508 Track Roller |
| EX100-2/3/5 | 9132600/9092522 Track Roller |
| EX120-1 | 9066508 Track Roller |
| EX120-2/3/5 | 9132600/9092522 Track Roller |
| EX200-1 | 9114617/9066510 Track Roller |
| EX200-2/3 | 9089173 Track Roller |
| EX200-5 | 9134243 Track Roller |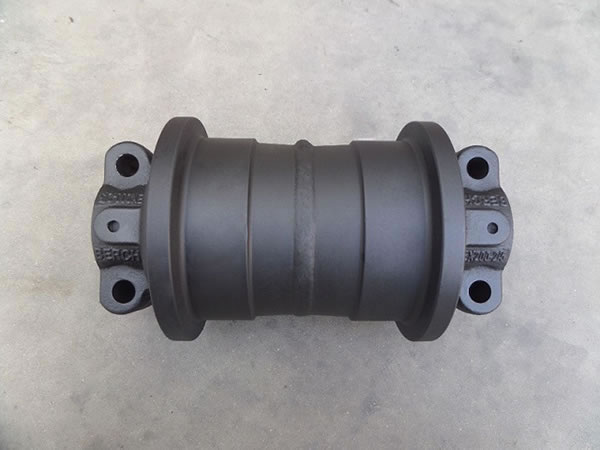 EX200-5
D3B/D3C~D9N/D9R
| | |
| --- | --- |
| Model | OEM Part No. |
| D3B/D3C | 6S3607/3T4352 Track Roller |
| D3B/D3C | 6S3608/3T4353 Track Roller |
| D4C/D4D | 7K8095/7K8083 Track Roller |
| D4C/D4D | 7K8096/7K8084 Track Roller |
| D5 | 9S9539 Track Roller |
| D5 | 9S9538 Track Roller |
| D5H | 9P1368 Track Roller |
| D5H | 9P1363 Track Roller |
| D6C | 9S9403 Track Roller |
| D6C | 9S9404 Track Roller |
| D6D | 7G0421/9G8029 Track Roller |
| D6D | 7G0423/9G8034 Track Roller |
| D6R | 120-5746 Track Roller |
| D6R | 120-5766 Track Roller |
| D6H | 7T4102 Track Roller |
| D6H | 7T4107 Track Roller |
| D7G | 9S0316/4S9051 Track Roller |
| D7G | 9S0317/8S2933 Track Roller |
| D8N | 9W8705/7G9188 Track Roller |
| D8N | 9W8706/7G9193 Track Roller |
| D8K | 6P4897/7S9041 Track Roller |
| D8K | 6P4898/7S9042 Track Roller |
| D9N/D9R | 7T1258 Track Roller |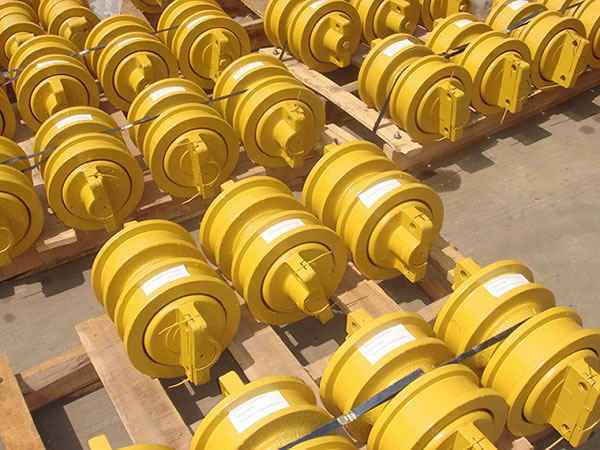 D6D DF
EX220-1~EX400-1/2/3/5
| | |
| --- | --- |
| Model | OEM Part No. |
| EX220-1 | 9114618/9066509 Track Roller |
| EX220-2 | 9089173 Track Roller |
| EX220-3/5 | 9132602 Track Roller |
| EX270-1/2 | 9114682 Track Roller |
| EX270-5 | 9168173 Track Roller |
| EX300-1 | 9114619/9066690 Track Roller |
| EX300-2/3/5 | 9168173/9114682 Track Roller |
| EX400-1/2/3/5 | 4386648/9129347 Track Roller |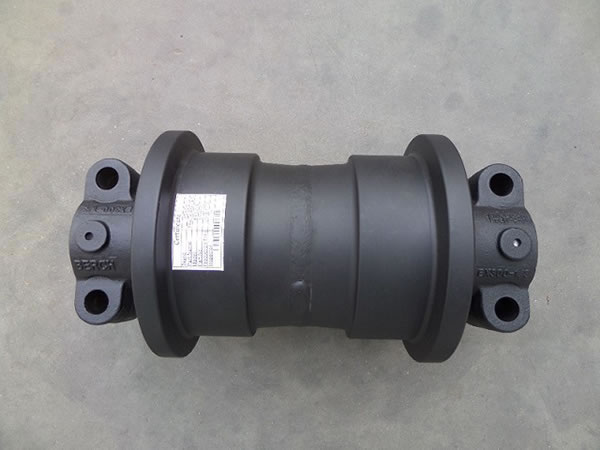 EX300-1
SK100-1/SK120-1~SK330-6
| | |
| --- | --- |
| Model | OEM Part No. |
| SK100-1/SK120-1 | 24100N4042F2 Track Roller |
| K907B | B90N0059F6 Track Roller |
| SK200-1 | 24100N5947F2 Track Roller |
| SK220-1 | 24100J11696F3 Track Roller |
| SK200-2/3 | 24100N5947F2 Track Roller |
| SK200-5/6 | YN64D00013F1 Track Roller |
| SK300-1 | 24100N3856F3 Track Roller |
| SK330-6 | LC64D00005F1 Track Roller |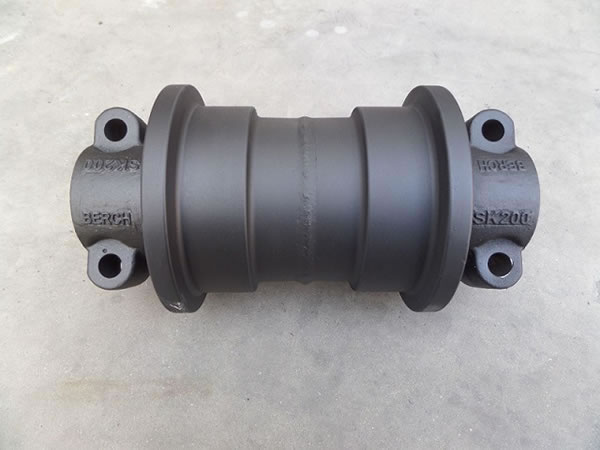 SK200-3
SH100/SH120~SH100/SH120
| | |
| --- | --- |
| Model | OEM Part No. |
| SH100/SH120 | KNA0242/KNA0532 Track Roller |
| SH200 | KRA1189 Track Roller |
| SH200 | KRA1190 Track Roller |
| SH220 | KBA0869 Track Roller |
| SH220 | KBA0870 Track Roller |
HD700~DH280/DH320
| | |
| --- | --- |
| Model | OEM Part No. |
| HD700 | 547-50800110 Track Roller |
| HD820 | 707-50800101 Track Roller |
| DH220 | 2270-1098 Track Roller |
| DH280/DH320 | 2270-9401A Track Roller |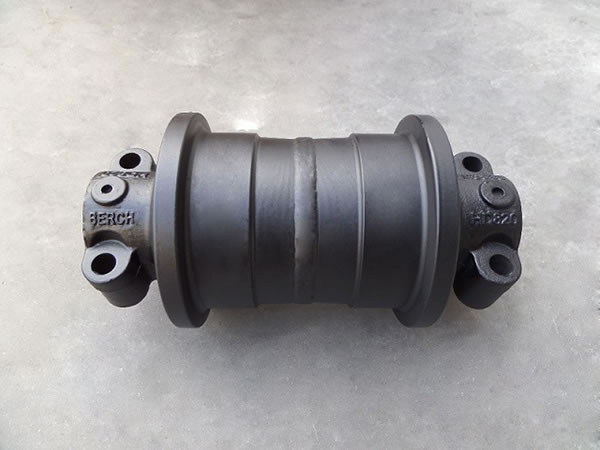 HD820
R200~R290LC-7
| | |
| --- | --- |
| Model | OEM Part No. |
| R200 | E181-2002 Track Roller |
| R210 | 81EL-20020 Track Roller |
| R210LC-7 | 81N6-11010 Track Roller |
| R290 | 81E9-2002 Track Roller |
| R290LC-7 | 81N8-11010 Track Roller |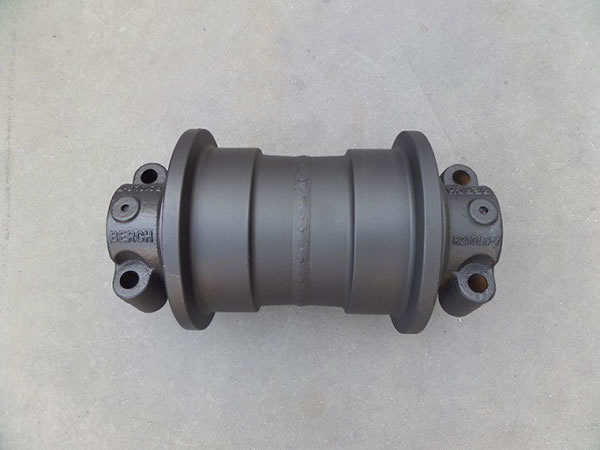 R210LC-7
EC210~EC460
| | |
| --- | --- |
| Model | OEM Part No. |
| EC210 | 1181-00020 Track Roller |
| EC240 | 1181-00020 Track Roller |
| EC290 | 1181-01011 Track Roller |
| EC360 | 1081-01820 Track Roller |
| EC460 | 1081-01820 Track Roller |
D9N/D9R~D155AX-3
| | |
| --- | --- |
| Model | OEM Part No. |
| D9N/D9R | 7T1253 Track Roller |
| D10N/D10R | 6Y0889 Track Roller |
| D10N/D10R | 6Y0890 Track Roller |
| D31-16 | 113-30-00272 Track Roller |
| D31-16 | 113-30-00282 Track Roller |
| D41-6 | 124-30-52502 Track Roller |
| D41-6 | 124-30-52602 Track Roller |
| D50-15/D60-3 | 131-30-00322 Track Roller |
| D50-15/D60-3 | 131-30-00332 Track Roller |
| D60-6 | 141-30-00578 Track Roller |
| D60-6 | 141-30-00588 Track Roller |
| D65-12 | 14X-30-00081 Track Roller |
| D65-12 | 14X-30-00091 Track Roller |
| D80-12 | 154-30-00505 Track Roller |
| D80-12 | 154-30-00405 Track Roller |
| D80-18 | 155-30-00126 Track Roller |
| D80-18 | 155-30-00116 Track Roller |
| D85E-18 | 155-30-00127 Track Roller |
| D85E-18 | 155-30-00117 Track Roller |
| D150A-1/D155A-1 | 175-30-00486 Track Roller |
| D150A-1/D155A-1 | 175-30-00496 Track Roller |
| D155AX-3 | 17A-30-00070 Track Roller |
| D155AX-3 | 17A-30-00080 Track Roller |
Examples we have made