Swing Bearings
Description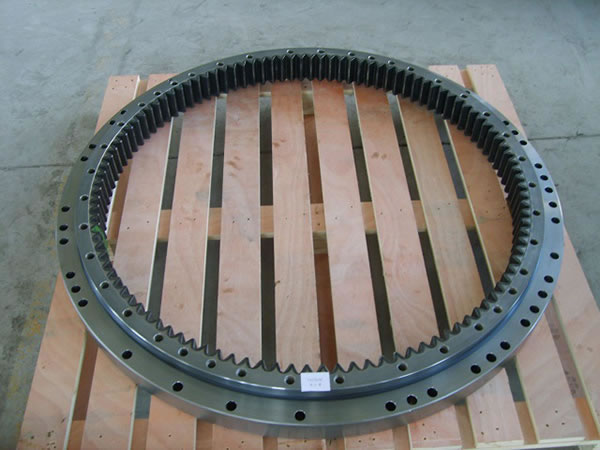 Our swing bearings, also known as slewing bearings are made of 50Mn steel, with a track hardness of 55-62HRC and a teeth hardness of 52-58HRC. We guarantee a one year warranty for each swing bearing.
Helong's swing bearings are applicable for use in Komatsu, Hitachi, Kobelco, Kato, Sumitomo, Daewoo, Hyundai, and Volvo vehicles, among others. We can also carry out OEM service according to customer technical drawings and samples.
Model Selection according to customer need numbers
Please check the list of swing bearings for excavators as following.
| | | | | | |
| --- | --- | --- | --- | --- | --- |
| 1 | PC40-10 excavators | 63 | EX300-3 excavators | 125 | SH300-2 excavators |
| 2 | PW60-5 excavators | 64 | EX300-5 excavators | 126 | SH300-3 excavators |
| 3 | PC60-5 excavators | 65 | ZX330 excavators | 127 | SH330 excavators |
| 4 | PC60-6 excavators | 66 | ZX350-5 excavators | 128 | SH340 excavators |
| 5 | PC60-7 excavators | 67 | ZX450H excavators | 129 | SH350 excavators |
| 6 | PC90-6 excavators | 68 | HD250-7 excavators | 130 | SH430 excavators |
| 7 | PC100-5 excavators | 69 | HD450-5 excavators | 131 | DH55-3 excavators |
| 8 | PC120-5 excavators | 70 | HD450-7 excavators | 132 | DH55-5 excavators |
| 9 | PC120-6 excavators | 71 | HD450 excavators | 133 | DH200-3 excavators |
| 10 | PC130-7 excavators | 72 | HD512 excavators | 134 | DH220-2 excavators |
| 11 | PC150-7 excavators | 73 | HD516 excavators | 135 | DH220-3 excavators |
| 12 | PC200-1 excavators | 74 | HD770SE excavators | 136 | DH220-5 excavators |
| 13 | PC200-2 excavators | 75 | HD770-1 excavators | 137 | DH220-7LC excavators |
| 14 | PC200-3 excavators | 76 | HD770-2 excavators | 138 | DH225-7 excavators |
| 15 | PC200-5 excavators | 77 | HD700-2 excavators | 139 | DH280 excavators |
| 16 | PC200-6 excavators | 78 | HD700-5 excavators | 140 | DH290-5 excavators |
| 17 | PC200-7 excavators | 79 | HD700-7 excavators | 141 | DH300-5 excavators |
| 18 | PC200-8 excavators | 80 | HD800-5 excavators | 142 | DH300-7 excavators |
| 19 | PC220-3 excavators | 81 | HD800-7 excavators | 143 | DH320 excavators |
| 20 | PC220-5 excavators | 82 | HD820-1 excavators | 144 | DH330-3 excavators |
| 21 | PC220-7 excavators | 83 | HD820-3 excavators | 145 | E110 excavators |
| 22 | PC220-8 excavators | 84 | HD1250/1430 excavators | 146 | E215 excavators |
| 23 | PC228 excavators | 85 | HD1023 excavators | 147 | E215B excavators |
| 24 | PC240-8 excavators | 86 | HD1220 excavators | 148 | E225 excavators |
| 25 | PC300-2 excavators | 87 | SK120-5 excavators | 149 | E280 excavators |
| 26 | PC300-3 excavators | 88 | SK130-7 excavators | 150 | E200B excavators |
| 27 | PC300-5 excavators | 89 | SK07-1 excavators | 151 | E305 excavators |
| 28 | PC300-6 excavators | 90 | SK07-1-N2 excavators | 152 | E320B excavators |
| 29 | PC350-6 excavators | 91 | SK07-N2 excavators | 153 | E320C excavators |
| 30 | PC360-7 excavators | 92 | SK07-2 excavators | 154 | E320D excavators |
| 31 | PC400-1 excavators | 93 | SK907B excavators | 155 | E320L excavators |
| 32 | PC400-3 excavators | 94 | SK09 excavators | 156 | E325 excavators |
| 33 | PC400-5 excavators | 95 | SK03 excavators | 157 | E325B excavators |
| 34 | PC400-6 excavators | 96 | SK04 excavators | 158 | E325C excavators |
| 35 | PC450-5 excavators | 97 | SK60-5 excavators | 159 | E330C excavators |
| 36 | PC450-6 excavators | 98 | SK60-6 excavators | 160 | R55-7 excavators |
| 37 | PC450-7 excavators | 99 | SK200-3/5 excavators | 161 | R60-5 excavators |
| 38 | PC650 excavators | 100 | SK200-6 excavators | 162 | R60-7 excavators |
| 39 | EX60-1 excavators | 101 | SK210-6E excavators | 163 | R110-7 excavators |
| 40 | EX60-2,3 excavators | 102 | SK200-8 excavators | 164 | R130-5 excavators |
| 41 | EX60-5 excavators | 103 | SK235 excavators | 165 | R130-7 excavators |
| 42 | EX90 excavators | 104 | SK330-3 excavators | 166 | R170-5 excavators |
| 43 | EX100-5 excavators | 105 | SK350 excavators | 167 | R200-5 excavators |
| 44 | EX120-2 excavators | 106 | SK450-6E excavators | 168 | R200-7 excavators |
| 45 | EX120-3 excavators | 107 | SH60-1 excavators | 169 | R210-3 excavators |
| 46 | ZX120 excavators | 108 | SH120-1 excavators | 170 | R215-7 excavators |
| 47 | EX120-1 excavators | 109 | SH120-2 excavators | 171 | R220-5 excavators |
| 48 | EX120-5 excavators | 110 | SH120-3 excavators | 172 | R225-7 excavators |
| 49 | EX150 excavators | 111 | SH120 excavators | 173 | R260LC-7 excavators |
| 50 | EX160WD-1 excavators | 112 | SH140 excavators | 174 | R290 excavators |
| 51 | EX200-1 excavators | 113 | SH145 excavators | 175 | R305LC-7 excavators |
| 52 | EX200-2,3,5 excavators | 114 | SH200A1 excavators | 176 | R300 excavators |
| 53 | ZX200 excavators | 115 | SH200A2 excavators | 177 | R360 excavators |
| 54 | EX210-5 excavators | 116 | SH200A3 excavators | 178 | EC210B excavators |
| 55 | ZX210 excavators | 117 | SH200C2 | 179 | EC210 |
| 56 | EX220-5 excavators | 118 | SH200C3 excavators | 180 | EC290 excavators |
| 57 | ZX225U excavators | 119 | SH220-2 excavators | 181 | EC360 excavators |
| 58 | ZX230 excavators | 120 | SH220-3 excavators | 182 | EC55 excavators |
| 59 | ZX240 excavators | 121 | SH225 excavators | 183 | Liebherr 914 excavators |
| 60 | ZX270 excavators | 122 | SH260 excavators | 184 | Liebherr 924 excavators |
| 61 | EX300-1 excavators | 123 | SH265 excavators | 185 | Liebherr 934 excavators |
| 62 | EX300-2 excavators | 124 | SH280 excavators | 186 | CX240 excavators |
Examples we have made